What are the factors that make the ideal dog?  Answer:  Genetics, Training and Enviornment
The following videos demonstrate the outcome when you combine the best genetics, with excellent training and the ideal environment.  Click on these links below to watch these 7 different videos and decide for yourself!  How many times have you seen a 9 year old boy with a 3 year old dog, with this level of control?  These videos were shot in less than 8 minutes, with no editing at all.  And they demonstrate what is possible with the right genetics, training and environment (and a natural bond between a dog and a boy).  By the way, Baghira is a V rated, IPO 3, Kkl 1, Paska grandson…and one of our younger studs.
      

     

Click Below To Watch 7 of the Most Impressive Videos You've Ever Seen
Watch the Video below to learn more about Protection Trained Dogs
[youtube link="http://youtu.be/4IK1uqWEi-s" width="590″ height="315″]
From: "daryljamison Jamison" daryljamison@msn.com;
To: drb@topshepherds.com
Sent: Tuesday, April 30, 2013 2:53:51 PM
Subject: Rocky
Thought I would let you know that Rocky is doing very well and is fully integrated into the family. He continues to show exceptional drive and energy and I know you will enjoy great success if you can continue to breed Shepherds with his character, drive and power. He's a winner from every perspective and there isn't really a thing about him that has anything but exceeded our expectations.
I believe we are going to work with him and get him titled. I am looking for an appropriate Schuzhund trainer in our general vicinity to work with.  Again, just wanted to let you know how much we enjoy having Rocky. You can rest assured he has found a very good home.
Daryl Jamison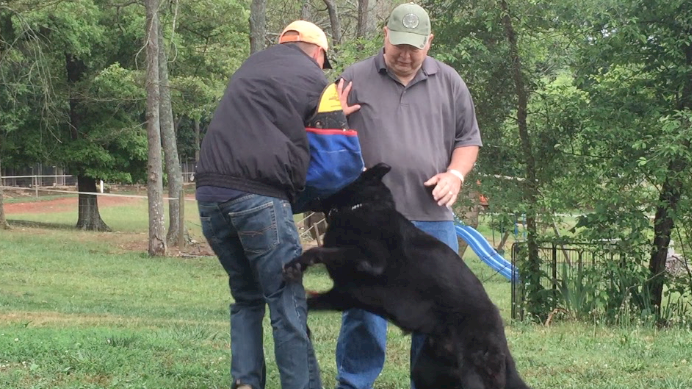 Click on the image above to see video of Juma von Wiese
Very often, with our blood lines and with our special line breeding combinations, we will have puppies distinguish themselves at an early age.  We retain these puppies either for our future breeding program or for our select training program for obedience and/or protection (assuming they are not selected as "pick of the litter" by prospective clients looking for top puppies).  These dogs are the same caliber as the dogs that are being sold for literally "hundreds of thousands of dollars" (see the NY Times article).  What makes those dogs different from our dogs?  The level and intensity of training is the ONLY difference…and of course, their age and their level of experience.  The point being, our dogs are everything if not better than these dogs selling for hundreds of thousands of dollars, but with better blood lines, and with better genetics.  So the question you have to ask is, "what is a good protection trained dogs value to you"?  Once you've answered that, then look at what we offer.
Our basic obedience training and our basic obedience and protection programs show you what our dogs are capable of doing by the age of 12 to 15 months.  If you wish to continue their training, that is a choice you can make.  You will need to send your dog back to us by age 10 months to 12 months and will need to be with us for approximately 3 months if being trained for protection (includes protection and obedience) or for approximately 1 month if being trained for obedience only.  Feel free to inquire about the pricing of this training.  (Sorry, this training is only available for dogs purchased from our kennel, bred by Kennel von Wiese).  Our goal is to provide the best trained protection dogs for sale anywhere in the world.
The dogs we have retained have not only distinguished themselves as being exceptional, are either sent for the IPO titling (previously SchH) or they are slated for going into protection training, the same program mentioned above.  On rare occasion, they may only go into the obedience program but that is very seldom.   they have had this obedience and in some cases, protection training as well.
The price of these dogs that have distinguished themselves as having potential for our breeding program or have received this additional training fall into one of two categories.  All the dogs featured are products of our superior breeding program using the top Paska genetic lines and utilizing our version of the Mendelian genetic technique of 2 – 3 line breeding programs as used by the original top breeders of dogs, horses and other award winning livestock throughout the world.
Obedience only – Dogs are between 8 and 12 months old, with all basic commands and recall established, along with some additional behaviors we teach.
– Obedience Trained Dog – Price ranges between $7,500 and $9,500 depending on the dog, sex, size, age, personality and level of training.
Obedience and Protection – Dogs are between 10 months and 15 months old, with all the obedience components as above, along with practical protection work including bite training and situational protection work.
– Obedience and Protection Trained Dog – Price range from $16,000 and $20,000 depending on the dog, sex, size, age, personality and level of training.
Please note that our preference is obviously using our own bred dogs for protection and obedience.  However, demand far exceeds our supply right now since more than 80% of our puppies are sold before they are even born.  As a result, we don't have as many puppies as we would like to retain for our protection training program.  However, we are trying to keep select dogs from each of our litters (if not picked as "pick of the litter") for either our protection candidates or for our future breeding program.
Even though we have the best connections in Germany and can get dogs from Germany and have them trained here for protection, we have found that the dogs that the Germans sell that are not titled, are uaully lacking.  If you want fully titled dogs, of absolutely ANY blood line, we can provide them to you more competitively than anyone else.  However, we only deal in the working dog lines.  The blood lines are extremely important and that is the very reason we have focused in on the Paska and Veto blood lines in our own breeding program.  But for non-titled dogs that are obedience and protection trained, we only deal with the dogs we have bred in our own breeding program
Currently Available Dogs (click on link next to the picture to view more info on the dogs we have currently available):
SOLD
We have now sold a few of our protection trained dogs, all exceeding the expectations of their new owners.  Below you can see the basic level of training our protection dogs get.  They will be able to be handled by a toddler, have excellent obedience but will never back of from a protection scenario, even with being fired upon with a gun (see demo video below).
[youtube link="http://www.youtube.com/watch?v=nJ3niMN5DE0″ width="590″ height="390″]
UPDATE: September 2, 2013
If you would like to purchase a dog of the same quality and caliber as Rocky, and with the same level of obedience and protection training, you can contact us and reserve one of our limited protection dogs now.  We currently have 4 males and 2 females that we have retained from our 2-3 line breeding puppies who have shown exceptional courage and drive and have clear ability to do exceptionally well in this type and level of training.  Each of these dogs were retained from our very own breeding program and were "picks of the litter" out of litters where no one chose the "pick of the litter".
You can "reserve" any of these available dogs and plan on receiving them when they reach about 12 to 15 months of age, fully protection and obedience trained.  They are all priced starting at $12,000.00 to $15,000.00 for males (depending on Level 2 vs Level 3 training and the dog) and $13,000.00 to $16,000.00 for females (depending on Level 2 vs Level 3 training and the dog), which includes all the training as well as 2  days worth of 1 on 1 work with you and the trainer, after you get the dog to ensure YOU are properly trained on how to handle your dog.
We do NOT train dogs outside of our breeding program any longer.  And we do NOT purchase dogs from outside to train them and then sell them to you as most breeders/trainers do.  We breed our dogs specifically and then train them specifically.  If we did not select the puppies from our own breeding program, they will never be sold by us for protection dogs.  We only sell the best of the best in trained protection dogs and unless we had total control of the genetics from pre-conception, we will NOT sell a dog as a protection dog.  We refuse to compromise on quality.
Use the PayPal Buttons below to make a deposit and reserve your protection / obedience trained all black German Shepherd (male or female).  Please note that all dogs that we have listed here are at a minimum of 6 months of age:
Male Pup – Pick of the Litter, Selected for Protection and Obedience, with all dog training completed (includes 2 days of 1-on-1 handler training with the dog) – Deposit $3,000.00 :   
Female Pup – Pick of the Litter, Selected for Protection and Obedience, with all dog training completed (includes 2 days of 1-on-1 handler training with the dog) – Deposit $3,000.00
You can choose your future trained dog from the time they are 3 months old up to when they have fully completed their training program.  Options for training are Obedience or Obedience + Protection.  For a listing of dogs that are either in training or will be entering training soon, click here.
We only have the best in solid black german shepherd puppies for sale with all our black German Shepherd lines being among the best available anywhere in the world.  Most of what we have are black german shepherd puppies for sale.  However, we also sometimes have various aged, older black German Shepherd puppies for sale and some young adult dogs occasionally for sale as well.  These dogs are available either as is, or with additional training in obedience or both obedience and protection.  Occasionally, we may even have a fully titled black german shepherd for sale available.
Click here for all of our Black German Shepherd Puppies For Sale
Click here for all of our Trained Black German Shepherds available
Click here for our Fully or Partially Titled, Black German Shepherds
We have now been referred to as being "the world's top all black german shepherd breeder" by multiple sources in different parts of the world.  We take this as a tremendous compliment because we do take great pride in our breeding program and are grateful that the quality of our dogs that we are producing has now been internationally recognized.