Thank you for your confidence in our breeding program.  We are more than certain you will be far happier than you expected with your purchase of a puppy(s) from us.  We have received international acclaim and now have had inquiries from every corner of the world due to the reputation earned by the quality of our dogs and our breeding program that consistently produces these quality dogs.  We have had inquiries from all over the world and have now shipped all black German Shepherds to many other nations including Mexico, Canada, Australia, New Zealand, Argentina, Chile, Venezuela, Brazil, Columbia, Switzerland, India, Pakistan, Egypt, Spain, Lebanon, Hong Kong, Philippines, UK, Germany and throughout all parts of the USA including Alaska.
***NOTE*** –  Occasionally  we retain a puppy for our own future breeding/titling/protection/competition program.  These dogs have distinguished themselves from an early age and therefore, retained by our own program.  These are the dogs we select as "Pick of the Litter" when a client asks us to choose the "Pick of the Litter" for them.  However, occaisionally a client wants to choose the "pick of the litter" themselves and they pick different from what we would have picked as the "Pick of the Litter".  Or there may be two or three puppies that tested to the same level.  And yet other times, the "Pick of the Litter" may not have been reserved.  In these situations, if a puppy seems to distinguish themselves from the rest of their peer group, we will retain him or her.  
These dogs are not listed for sale but we may occasionally consider selling some of these exceptional dogs who are waiting to enter our training or titling program or are already in our training programs.  These dogs can also be purchased at the end of the training if preferred.  If you are interested in one of these distinguished older  puppies / young adult dogs who are either waiting to start their obedience and protection training  or have already begun their training program, call 775-BEST-DOG.  For a listing of these dogs that may be available as trained dogs and to see what our protection dogs are trained to do, click here.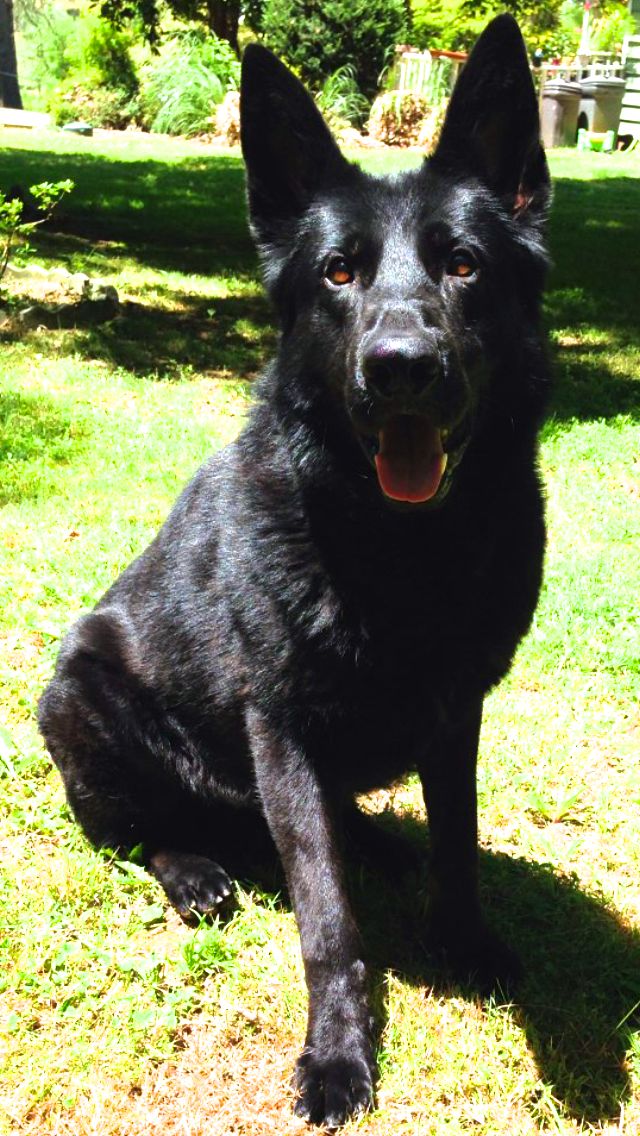 What are the factors that make the ideal dog?  Answer:  Genetics, Training and Enviornment
The following videos demonstrate the outcome when you combine the best genetics, with excellent training and the ideal environment.  Click on the links below to watch these 7 different videos and decide for yourself!  How many times have you seen a 9 year old boy with a 3 year old dog, with this level of control?  All these videos collectively were filmed in less than 8 minutes, with no editing at all.  And they demonstrate what is possible with the right genetics, good training and proper environment (and a natural bond between a dog and a boy).  By the way, Baghira vom Wetterauer Land is a V rated, IPO 3, Kkl 1, Paska grandson…and one of our younger studs.  He is a Nolan son (see pictures above).
           Click Below To Watch 7 of the Most Impressive Videos You've Ever Seen
Baghira is an example of the type and quality of dogs we breed and raise.  Baghira is just one example of why we breed 2-3, 3-3 and 2-4 on the legendary V Paska vom Salztalblick.
If you are looking for the best puppy available, make your deposit below and then contact us.  Choose the "Pay Pal" button located BELOW the description of what you have chosen.  If you only wish to get a puppy from a particular litter and are not sure if there are puppies still left available from that particular litter, please call us.  Or for any other questions, feel free to contact us 775-BEST-DOG (775-237-8364).
Deposits:
Please note the following regarding making deposits to hold puppies:
About 65% to 70% of our puppies are reserved before they are born (approximately 2/3 rd's).  There are 4 categories of puppies that you can select from below, depending upon sex, status of birth (born or unborn) and if you are looking for the pick of the litter.  Select from the category below if you are interested in making the initial deposit to reserve your puppy.
Note that the "Blue" links are for male puppies and the "Pink" links are for the female puppies.  On the PayPal invoice that you pay, you can specify the litter you want.  However, it is not necessary to do this if you are not sure which litter you want your puppy from.  Once deposits are in place, deposit holders get priority on choosing the litter from which to select their puppy.  Deposits can also be changed between litters without any problems if needed.
Full payment is due by 7 weeks of age on all puppies.  Puppies can be picked up from 8 weeks of age up to as late as 16 weeks if necessary at no additional charge.  However, full payment must be completed by 8 weeks of age.  The best way to make a deposit and/or pay for a puppy or dog purchased from our Kennel is below (via PayPal and/or credit card) below:
All deposits are final and non-refundable.  However, deposits can be switched between litters as long as it's before the date the puppies are due to be shipped.  Deposits can also be extended out into the future if necessary due to unforeseeable circumstances of new owner's.  Please note, this is ONLY the deposit to hold the puppy.  Balance of payment is due at 7 weeks of age, 1 week prior to shipping.
Unborn litters:
(We only take up to 6 deposits per litter prior to birth)
– $500 for puppies
– $1000 for "pick of the litter" puppies
Born litters:
– $1000 for puppies
– $1500 for "pick of the litter" puppies (if still available)
Select this option if you have determined that you are sure you want a dog from us, but NOT sure if you want a male or female or the timing of when you want your new puppy, or if you want the pick of the litter or not.
Standard Deposit – Deposit $1000.00 :
If you already know exactly what type of puppy (or adult dog) you want, click here on Place A Deposit
(Please give this page a minute or two to load)
We only have solid black german shepherds for sale and all our black German Shepherd lines are the best available anywhere in the world.  Most of what we have are black german shepherd puppies for sale.  However, we also sometimes have various aged, older black German Shepherd puppies for sale and some young adults occasionally for sale as well.  These dogs are available either as is, or with additional training in obedience or both obedience and protection.  Occasionally, we may even have a fully titled black german shepherd for sale available.  Click here for all of our Black German Shepherd Puppies For Sale.  We have now been referred to as being among "the world's top 2 all black german shepherd breeders".  We take this as a tremendous compliment because we do take great pride in our breeding program and are grateful that the quality of our dogs we are producing has now been internationally recognized.