Thank you for submitting your inquiry via our "Contact Us" link.
Your inquiry was successfully received   We will get back to you, usually within 72 hours.  Until then, the following information will be of benefit.  Please review the details below as many of your questions will be answered below.
---
Important Note
If a person doesn't have enough time to go through the information below, they will correspondingly not have enough time for one of our puppies or young dogs once they get them from us.  For these people, we would rather you find your dog elsewhere because by not spending the necessary time to learn what the addition of a new family member will require (because that's what these dogs are to us), you will not be well suited with our breeding program.  We know this statement creates a risk of sounding arrogant.  But this is not from a place of arrogance.  It is from a place of wanting the best homes for our puppies and our dogs.  The above is simply a way for us to filter the creme from the rest.   We are only looking for the best homes for our dogs.  If after reviewing the information below you still have questions, then please feel free to contact us at 775-BEST DOG.  We love talking about our dogs and we welcome calls to answer additional questions.
---
Thank you f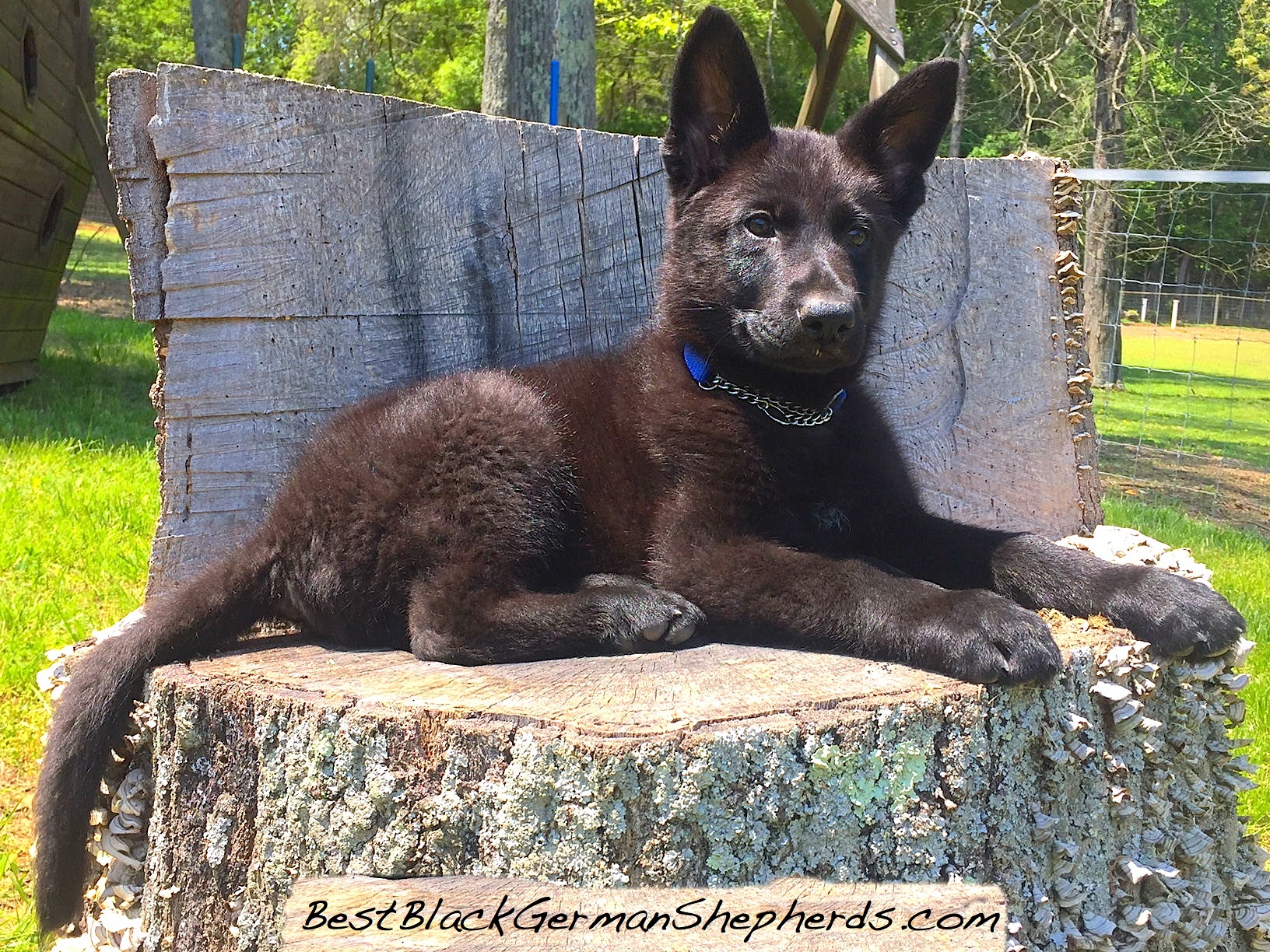 or your interest in our world recognized breeding program and our internationally sought after dogs.  The availability of puppies and how deposits work is explained in detail below.  We also have some older dogs available, most being young adolescent dogs (males and females) that we have retained either for protection/service work, competition or for our own breeding program.  You can look at the link for the available puppies and the available older dogs which will appear further down below on this page.
Please understand, we get over a 100 inquiries a week on puppies.  And unfortunately, there is no way that our "supply" can meet our demand for puppies.  Although we strive to provide answers to questions rapidly and efficiently while maintaining a focus on people serious about getting a German Shepherd of high quality, it may take us a few days to get back with you.  However, if your question has previously been answered here or on our website, you will be re-directed back to the answer. Most questions are answered on this page or on our website.  So please read this email thoroughly and follow the links for additional resources if those are of interest to you.  
For current availability on our puppies, information on the specific litters, and the Sire and Dams of these litters, click on the link below:
Current Availability of Puppies
We believe that the black German Shepherd is a different dog and we personally feel that in another 20 or 30 years, they may very well be considered a different breed of dog, or a sub-species of the German Shepherd dog.  In fact, we are striving to set the foundation of that very plan and contribute to it coming to fruition ourselves.  If you have further questions after reading the information below, feel free to call us at 775-BEST DOG.  But the information below will most likely answer most of your questions.
FAQ's:
Our main location is in North Carolina, USA but we have shipped dogs all over the world, now to 44 different countries, with dogs from our facility now in every continent (except Antarctica).  We currently have annex locations now open in Egypt, New Zealand, Equador, as well as a 2nd location in the US.  But all business is conducted via our main North Carolina location.
How much do puppies cost?
As an overview, our puppies are $3500 and the "pick of the litters"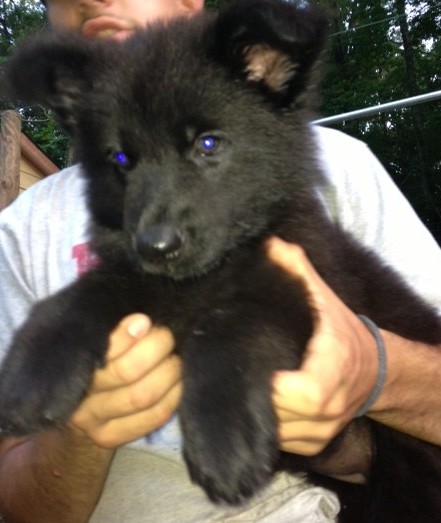 (1 male and 1 female from each litter) sell for $4500.  About 70% of our puppies are sold before they are born.  We only take 3 deposits on males and 3 deposits on females per litter.  If we have more puppies than that born in a litter, we are able to sometimes fulfill requests for deposit holders sooner than anticipated.
What's the next step to getting a puppy from you you guys?
If you are serious about getting a Black German Shepherd puppy from us, then please read the information below carefully.  It will make the difference of when you are able to get a puppy from us. We always tell people that if price is a deciding factor, we are probably not the right breeder for you.  If quality is the deciding factor, we are the ONLY choice, especially when it comes to all black 100% West German lineage, German Shepherds.  If you have already made the decision to move forward with us, then click here to make your deposit.  
What makes your kennel unique?
1. All our breeding dogs (both males and females) are fully titled SchH 3/IPO 3, Kkl 1, V rated dogs, with ZW scores below 85 with most being below 79, and most have FH1 or FH2 titles in addition.
2. We are the ONLY breeder in North America who can say that.  And for all black 100% German Shepherds, we are the only breeder in the world that can say that.  All our dogs are AKC registered and every single  dog has a pedigree that goes back at least 7 generations, if not further.
3. And all our dogs are 100% West German lines…the best and original German Shepherd dog lines in the world.  We are also the only kennel in North America to date, mentioned in the book "The German Shepherd Dog History" by Gordon Garrett.
What type of work do the dogs coming out of your breeding program go into?
We have dogs currently serving in the military, law enforcement, as service dogs (medical and therapy), as search and rescue dogs, as well as personal protection and competition dogs.  And of course, we have many that are companions and/or family pets as well.  We have sold dogs to people in over 40 countries now including people from Germany that have bought dogs from us (3 times).  To the best of our knowledge, we are the only ones who can say that in the US.  And we are proud to say we have had 16 different breeders in 5 countries (USA, Canada, Equador, Egypt and Germany) purchase dogs for their breeding program from us and continue to do so on a regular basis.
What dogs do you currently have available right now?
Earliest availability of adolescent dogs – Immediate
Earliest availability of protection trained dogs – Immediate
Earliest availability of obedience trained dogs – early November 2017
Earliest availability of puppies (availability beginning at 8 weeks of age):  Immediately beginning May 2017
Current Deposits on File –  21 deposits (from now to September 2018)
How do I get on the waiting list to get a puppy?
To get on the waiting list, you have to have a deposit in place to have priority. Believe it or now, this is the second most common question that is posed to us. We have had deposits put in place over 18 months in the future but these were serious people looking for the best.
What does "having a deposit" on a puppy mean?
"Deposits on file" means that we have the above number of people who have actually placed a deposit to reserve a puppy in the future from us.  This does not mean that they are necessarily going to get the next available puppy. For example, we have some people that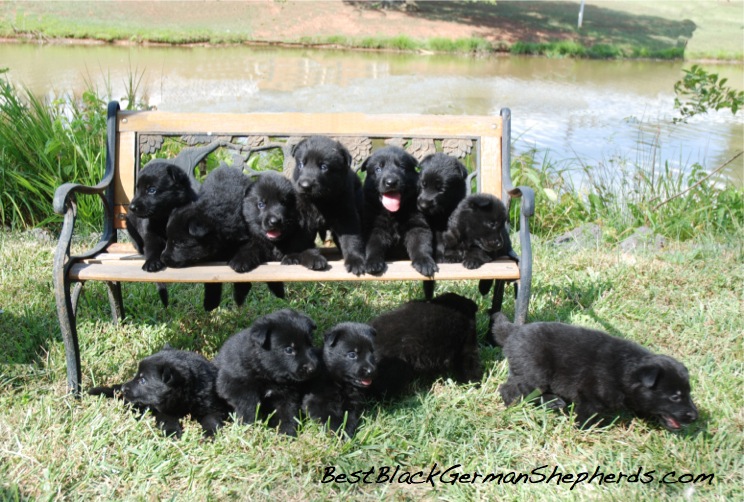 have deposits for Easter 2017 puppies already. We even have deposits out into late fall of 2017.  In other words, you could put a deposit down now for a puppy in the future and still get a puppy from us earlier than expected, depending on what you are looking for (male or female), how many male and female puppies are born and who is in line ahead of you for a puppy for the same time frame.  So this is NOT saying that all our puppies are sold between now and 2017.  This is only saying that we have the number of people indicated above that have put down a deposit for a puppy in the future for a special occasions such as graduation, birthday, anniversary, Christmas, Easter, etc.
How long before I get my puppy if I put a deposit down?
We never know how many puppies will be born per litter so we don't take any more than 6 total deposits per litter (3 males and 3 females).  Sometimes people change their minds and got an adolescent dog from us or decide to change to a male puppy or female puppy so availability does change.  Occasionally we may also have people who choose to switch their deposits to a later litter due to timing, which is also completely fine with us.
I want the "pick of the litter" puppy.  What do I do?
If you want a pick of the litter, more than half of those spots for the next few litters are already gone.  If you are serious about getting a puppy, then we recommend putting a deposit down now since we only take 6 deposits per litter.  But of course, we could have more than 3 males and 3 females born in a litter.
How do I know which puppy I am going to get?
To help explain our puppy selection process, we do a 23 point exactly at 7 weeks of age to assess the puppies and match the best ones to their potential new families.  The reason why we no longer have our most recent litters listed individually, is because almost all the litters are pre-sold with deposits already in place. That's not to say we have all the deposit spots sold up until then, but we have people that have put deposits our that far.
Can you explain how your process of prioritization works?
To answer this, let's use an example with our G litter, where we only had 1 female born. But we had 3 deposit holders for females.  Someone came in at the last minute, paid the "pick of the litter" price and took her, thus bumping all 3 of the existing female deposit holders further into the future for the next litter.  Our next litters (H litter and I litter), already had 3 deposits for females for each of those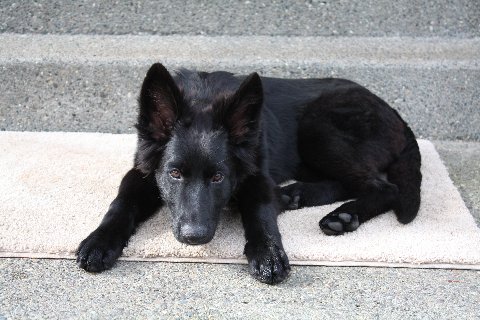 litters.  So the people with money on deposit for the females from the G litter, had to be bumped to the J and K litters in the future.  But we fortunately had enough females born to accommodate those deposit holders and they did not have to wait a few additional months.
Continuing from the example above, our G litter had 7 males born but we only had accepted 3 deposits on males from that litter (as per our policy).  Once the puppies were born, we notified deposit holders for puppies in the future and 2 of these people opted to get their puppies earlier than expected.  So now we had 5 of the 7 males sold right from the start (3 original deposit holders and 2 that opted to get their puppies sooner). One of the puppies we ended up keeping ourselves for our future breeding program.  And the last one was sold to someone who contacted us randomly, similar to how you may have inquired, who did not have an existing deposit on file but got lucky that we had a male puppy available at the time of his inquiry.  He called, paid and had his puppy shipped and was in his arms within 72 hours. But he got lucky (anniversary gift for his wife). Hopefully this answered all your question as to prioritization and how the process works.
What is your health guarantee?
Info on our health guarantee, link to additional videos, additional information along with some FAQ's as well as links which allow you to make a deposit along with instructions on how to move forward to reserve your puppy can be found below.
Making a Deposit and Other Details
What type of feedback can you provide regarding the dogs you've sold in the past?
It's amazing how many people buy dogs from us and have never even seen our feedback page.  We are way behind in updating it unfortunately but our focus is on our dogs and trying to keep up with the much greater demand than what we can supply of these incredible dogs with outstanding genetics.  Having said that, you can visit the link below to see the feedback on our dogs from previous customers.
What's my next step in getting a dog from your facility?
So the first step is to decide if you want to get a dog from us.  If you have already determined that you want to get a von Wiese Black German Shepherd, we highly recommend that you place a deposit to hold your spot.  Deposits are non-refundable, but they can be moved around to any dog (male or female, old or puppy, trained or untrained, etc).  Please ONLY put down a deposit if you are sure you want a dog from us.  If you're not sure, then don't put a deposit down.  Generally, few people are able to get a puppy from us without having had a reservation in place.
What are you planning for next year's puppies?
Often, we are also asked what we're "planning for next year".  Unfortunately, we can't control nature.  And we certainly don't attempt to control it 1 year out.  A dog may not get pregnant, or become sterile, or is sold, or can die, or get sick, or have infection or simply may resorb her pregnancy.  Or we may miss her heat.  And that is only on the female side.  So the point is, we can't tell you what combination will be going on 1 year from now.  Believe it or not, this is the most frequently asked question we are asked.
How big are the average litters your females have?
Usually a litter will have 5 to 8 puppies. But we have had up to 13 puppies in some litters, indicative of how healthy they are.  Generally speaking, most of our females have an average of 8 puppies..  As an example, our P litter which was born on October 27th, 2015, had 13 puppies born, which is a really large litter. The female, Pia, is 8 years old and usually, after 7 years, a female will start having smaller and smaller litters. But again, it all depends on how healthy the dogs are and having 13 puppies is a testament to how healthy Pia is and how well her body is functioning.
How do I make sure I get a dog from you when I'm ready?
Our suggestion is, if you're looking for a dog one year from now, either put a deposit down now, or contact us when you're ready to put a deposit down.  Otherwise, it's an exercise in futility.
I would like to visit your facility.  How do I arrange that?
People want to visit our facilities.  They are welcome to do so, once they have a deposit in place.  We do not allow non-deposit holders to visit our facilities because our time is taken up with taking care of our animals and focused on our breeding program.  To be frank, the other reason is simply because we don't have the time to spend with people that are just curious and because we are fortunate to have the luxury and have established a clientele and reputation all over the wold to be able to have that requirement.
Can I see example of past litters as well as what you have available currently, if any puppies?
For current availability on our puppies, as well as past examples of litters sold, information on the specific litters, and the Sire and Dams of these litters, click on the link below:
Current Availability of Puppies
You can also see some of the last few litters of puppies born on this link above, and see their details, videos and pictures.  Included, you will find a link to the sire and dam of each litter, as well as videos and pictures of each of the puppies in the various litters, taken at different ages, beginning at 4 weeks of age up to 8 to 10 weeks of age.
What adolescent or older dogs do you have available?
We do have some older dogs available but their prices vary because there is obviously a difference in titled vs non-titled dogs, as well as if they are obedience trained or protection trained, vs just green dogs.  Currently, the older dogs available are listed below. The dogs listed in green color are available.  The ones listed in red are already sold or are no longer available:
Adolescent and Adult Dogs Currently Available

Can you provide training for our existing German Shepherds?
We get daily inquiries about training dogs. However, we ONLY train dogs that we have bred. We do not train dogs from outside our own breeding program. Our focus is our breeding program and training the dogs that come out of our own breeding program.
---
Hopefully the above information explains and provides answers to many of the questions you may have had.  For additional questions not answered above, please send us an email by clicking here or call us at 775-BEST DOG (775-237-8364).
We know you have a choice in where you get your next dog from and we consider it among the greatest of compliments when someone considers purchasing a dog from us. Feel free to contact us at  775-BEST DOG if you need any additional information or have any other questions. Someone will also try and call you within the next few days to connect and find out exactly what type of dog you are looking for. However, the best way to get a hold of us if you're really serious about getting a dog from our world recognized breeding program, is to send us an email via our "Contact Us" page.
Anyone can pick up the phone and call, but it takes some effort to write an email and put some thought behind it.  It also helps us because there is a record of your inquiry and you will get a timely response to your questions while helping us to make sure our staff has followed up with your inquiry and questions.  Once again, thank you for your interest in our internationally recognized all black German Shepherd breeding program and our Best Black German Shepherds website.  Your interest, support and patronage is why we have become known as the best black German Shepherd breeders in the world. We look forward to helping match you with your perfect best friend and companion for years to come.