Thank you for your confidence in our breeding program.  We are more than certain you will be far happier than you expected with your purchase of a puppy(s) from us.  We have received international acclaim and now have had inquiries from every corner of the world due to the reputation earned by the quality of our dogs and our breeding program that consistently produces these quality dogs.  We have had inquiries from all over the world and have now shipped all black German Shepherds to many other nations including Mexico, Canada, Australia, New Zealand, Argentina, Chile, Venezuela, Brazil, Columbia, Switzerland, India, Pakistan, Egypt, Spain, Lebanon, Hong Kong, Philippines, UK, Germany and throughout all parts of the USA including Alaska.
What sets Kennel von Wiese apart from the rest?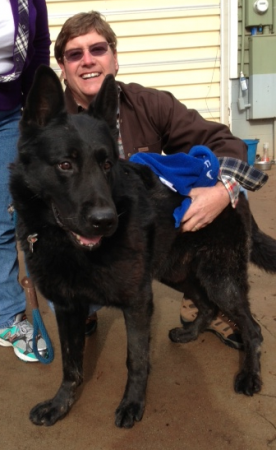 We only specialize in 100% all German stock, with all our black german shepherd puppies for sale coming from fully titled (SchH 3 or IPO 3), V rated, Kkl 1 Sires AND Dams.  We have 13 females that are ALL SchH 3/IPO 3, Kkl 1, V rated and most have an FH 1 title as well.  All have ZW scores less than 85.
This is very rare to have ALL breeding females that are fully titled, to the maximum level possible.  We are not aware of any other kennel in the world that meets this criteria producing exclusively all black German Shepherds.  In fact, we've been told that we are the only kennel in the world that can make this claim.
Of course, all our Studs that we use routinely are also fully titled.  But 2 of our 4 stud dogs are registered stud dogs with the SV (the German registry for German Shepherds).  Not many kennels can say they have a registered stud dog, leave alone 2 of their dogs are registered with the SV. As if that's not enough, both our registered stud dogs are direct sons of the world famous V Paska vom Salztalblick.
To see the registry, visit  www.okyro.de/Deckrueden.htm – Translate this page.  One of our dogs is V Unkas vom Riedschlurgi, SchH 3, Kkl1, FH 1, a Paska son that is a once in a life time dog.  We were offered over $60,000.00 for Unkas last year but it was respectfully turned down.
Unkas is pictured on the right with a happy new owner of one of his sons from the T litter.  This picture was taken in January 2014.  Unkas is one of those dogs that once you see him, you can't help but want one of his puppies.  Quite literally, his physical stature, his incredible temperament his perfect conformation and his massive beautiful head make you fall in love with him immediately…that is, as long as we are around.
His personality seems to transform when we are not around into something that warns people they may want to come back at a later time.  To see more of our incredible V Unkas vom Riedschlurgi, SchH 3, Kkl1, FH 1, click on his name.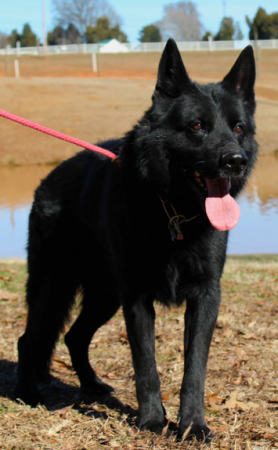 Another one of our suds, also a Paska son, is V Nolan vom alten Wingertshaus, SchH 3 (x5), IPO 3 (x2), Kkl 1, FH 2.  Nolan is the most accomplished all black German Shepherd in the USA with 16 first place wins in conformation in the working dog line and a 4 time Bundessieger qualifier and competitor, the most prestigious of all German Shepherd competitions in Germany.
Nolan is pictured to the left here at Kennel von Wiese, in January 2014.  Nolan's natural and overbearing relaxed dominance, his impeccable obedience, his serious demeanor and almost unbelievable conformation make him another internationally sought after stud dog, just like his half brother Unkas.
To see and learn about our awesome V Nolan vom alten Wingertshaus, SchH 3 (x5), IPO 3 (x2), Kkl 1, FH 2, click on his name.
– For feedback on what previous people who have bought dogs from us have to say about our dogs, our kennel and us, visit the Feedback Page
– To learn more on why people have have bought dogs from us and the reasons you should consider before purchasing, visit the Why Buy From Us
– To see which litters are currently available, visit the Upcoming Litters

When clicking on the Upcoming Litters link, once on the page, simply let your mouse just sit on the link in the menu bar and the link will show a pulldown menu showing the available litters with pictures and/or videos as well as prices.  This will be the most updated list of available puppies.  But please be aware that due to our inability to keep up with the changes and how fast puppies sell, this list is difficult to keep updated.
The best thing to do is to send an email specifying the sex, age and personality of the dog that you're looking for.  Specifically, are you looking for a puppy that you can use as a competition dog in the future?  Or a protection dog in the future?  Is the dog going into a working situation such as police work, narcotics, explosives, search and rescue or service type work?  Or is the dog going to be more of a companion dog?  Or are you looking more for a pet/family dog?  These things are important for us to know before we can tell you if we have the right dog for you.
– To see a listing of our breeding females (Dams), visit our Breeding Females page and for a list of our breeding studs (Sires), visit our Breeding Stud page.
***NOTE*** –  Occasionally  we retain a puppy for our own future breeding/titling/protection/competition program.  These dogs have distinguished themselves from an early age and therefore, retained by our own program.  These are the dogs we select as "Pick of the Litter" when a client asks us to choose the "Pick of the Litter" for them.  However, occaisionally a client wants to choose the "pick of the litter" themselves and they pick different from what we would have picked as the "Pick of the Litter".  Or there may be two or three puppies that tested to the same level.  And yet other times, the "Pick of the Litter" may not have been reserved.  In these situations, if a puppy seems to distinguish themselves from the rest of their peer group, we will retain him or her.  
These dogs are not listed for sale but we may occasionally consider selling some of these exceptional dogs who are waiting to enter our training or titling program or are already in our training programs.  These dogs can also be purchased at the end of the training if preferred.  If you are interested in one of these distinguished older  puppies / young adult dogs who are either waiting to start their obedience and protection training  or have already begun their training program, call 775-BEST-DOG.  For a listing of these dogs that may be available as trained dogs and to see what our protection dogs are trained to do, click here. 
What are the factors that make the ideal dog?  Answer:  Genetics, Training and Enviornment
The following videos demonstrate the outcome when you combine the best genetics, with excellent training and the ideal environment.  Click on the links below to watch these 7 different videos and decide for yourself!  How many times have you seen a 9 year old boy with a 3 year old dog, with this level of control?  All these videos collectively were filmed in less than 8 minutes, with no editing at all.  And they demonstrate what is possible with the right genetics, good training and proper environment (and a natural bond between a dog and a boy).  By the way, Baghira vom Wetterauer Land is a V rated, IPO 3, Kkl 1, Paska grandson…and one of our younger studs.  He is a Nolan son (see pictures above).
           Click Below To Watch 7 of the Most Impressive Videos You've Ever Seen
Baghira is an example of the type and quality of dogs we breed and raise.  Baghira is just one example of why we breed 2-3, 3-3 and 2-4 on the legendary V Paska vom Salztalblick.
If you are looking for the best puppy available, make your deposit below and then contact us.  Choose the "Pay Pal" button located BELOW the description of what you have chosen.  If you only wish to get a puppy from a particular litter and are not sure if there are puppies still left available from that particular litter, please call us.  Or for any other questions, feel free to contact us 775-BEST-DOG (775-237-8364).
Deposits:
Please note the following regarding making deposits to hold puppies:
About 65% to 70% of our puppies are reserved before they are born (approximately 2/3 rd's).  There are 4 categories of puppies that you can select from below, depending upon sex, status of birth (born or unborn) and if you are looking for the pick of the litter.  Select from the category below if you are interested in making the initial deposit to reserve your puppy.
Note that the "Blue" links are for male puppies and the "Pink" links are for the female puppies.  On the PayPal invoice that you pay, you can specify the litter you want.  However, it is not necessary to do this if you are not sure which litter you want your puppy from.  Once deposits are in place, deposit holders get priority on choosing the litter from which to select their puppy.  Deposits can also be changed between litters without any problems if needed.
Full payment is due by 7 weeks of age on all puppies.  Puppies can be picked up from 8 weeks of age up to as late as 16 weeks if necessary at no additional charge.  However, full payment must be completed by 8 weeks of age.  The best way to make a deposit and/or pay for a puppy or dog purchased from our Kennel is below (via PayPal and/or credit card) below:
All deposits are final and non-refundable.  However, deposits can be switched between litters as long as it's before the date the puppies are due to be shipped.  Deposits can also be extended out into the future if necessary due to unforeseeable circumstances of new owner's.  Please note, this is ONLY the deposit to hold the puppy.  Balance of payment is due at 7 weeks of age, 1 week prior to shipping.
Unborn litters:
(We only take up to 6 deposits per litter prior to birth)
– $500 for puppies
– $1000 for "pick of the litter" puppies
Born litters:
– $1000 for puppies
– $1500 for "pick of the litter" puppies (if still available)
Select this option if you have determined that you are sure you want a dog from us, but NOT sure if you want a male or female or the timing of when you want your new puppy, or if you want the pick of the litter or not.
Standard Deposit – Deposit $1000.00 :
Shipping:
– If you are picking up your puppy, vet checks are included as are first set of vaccinations (on request) and preliminary ACK registration (litter will be pre-registered).
– Shipping fees are $385.00 which includes flight, transfer to airport, crate cost and health certificate necessary to fly (for the continental United States and Alaska only).  For outside of the continental US, fees vary based on flight cost and import requirements of the country you are shipping too.
– If you are having the puppy shipped internationally, there are 2 additional fees:
Additional Fee 1 – Paid to us, for USDA health certificates (medical), crate cost and transportation to the airport
Additional Fee 2 – Paid to the international shipping company, which covers the actual flight, customs clearing, international paperwork, verification of USDA certification, coordination, connecting flights, etc and this fee would be paid directly to the shipping company.  There are 2 choices:
Choice 1 for International Shipping:
Company Name – Come, Sit, Stay.  Link is http://www.comesitstay.com/transport.  When requesting a quote at the link, simply tell them you are dealing with Kennel von Weise.  The owner of the company is Tim Cruiser and he can be reached at 720-851-7829.
Choice 2 for International Shipping:
Company Name – Aeropaws.  Link is http://www.aeropaws.com.  When requesting a quote at the link, simply tell them you are dealing with Kennel von Weise.  The owner of the company is Bill Krewin and he can be reached at bill@aeropaws.com or at 843 647-7726.
Health Guarantee:
– We offer a standard health, hip and elbow guarantee on all our puppies that we sell, good up to 1 year of age.  The puppy will be replaced at no cost to you if there is a "health, hip or elbow" issue but must be verified by a certified vet.  You will only have to pay for the shipping of the replacement puppy.  No other specific or implied guarantees are included.
– We also have a health, hip and elbow guarantee up to 2 years of age, at an additional $750 charge as an option for those who desire it.  For this additional health, hip and elbow guarantee (same as above but up to 2 years of age), the purchaser must agree to adhere to a specific dietary requirement (you must feed the dog "raw").  No other specific or implied guarantees are included.
Breeding Rights:
We do NOT restrict breeding rights.  However, if you are purchasing both a male and female from us, you must agree to keep our kennel name on the offspring puppies for their registration with the AKC when they are born.  This is not needed if you only buy a male or just buy a female from us. However, purchase of a breeding pair requires that our kennel name remains on the future resulting puppies.  For example, what ever you name your puppies, the last name would bare our kennel name.  Example:  You decide to name a puppy "Falco". Registered name would be "Falco von Wiese".  If you have your own kennel name, for example such as, com Tester for example, then the off spring puppies would be named "Falco von Wiese vom Tester".
You have made a very wise choice considering purchasing a puppy from us and we are committed to distinguishing ourselves from all other breeders, just as you will witness yourself as evidenced by the dog you will receive.  You will see the distinction and superiority of our breeding program in the quality of your new all black German Shepherd family addition.  Thank you again for choosing Kennel von Wiese as the place to find your future member of your family.  If you have any questions, feel free to contact us at 775-BEST-DOG (775-237-8364).